It is late October and the race for Leon County School Board Seat 1 is drawing a crowd. Two candidates have filed to challenge incumbent, Forest Van Camp. The two challengers are Alva Striplin and Diana Orapollo.
Tallahassee Reports posed three questions to each of the candidates so that voters can make an informed decision when they vote on August 26, 2014. The questions will shed some light on the background of each candidate, information on what they feel they can bring to the School Board, as well as their views on what is expected to be one of the biggest issues in the election, the Common Core State Standards.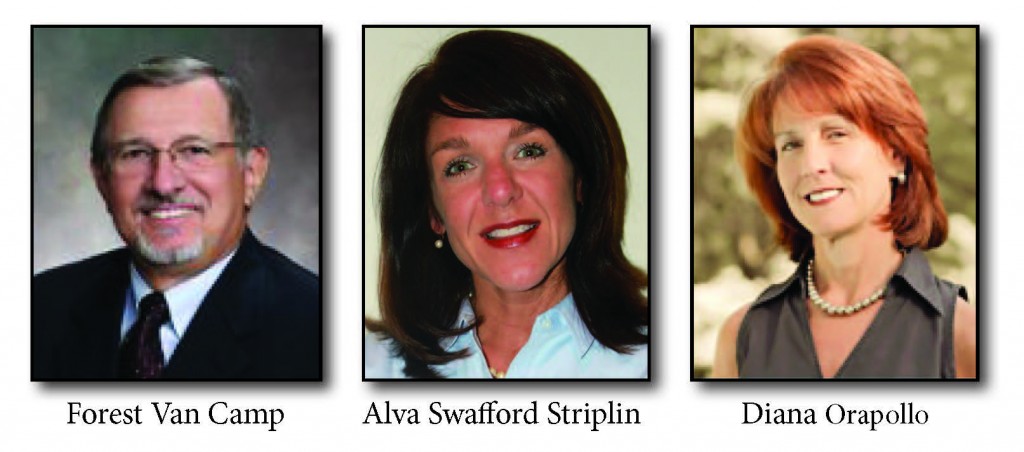 What will make you an effective school board member?

Candidate Alva Striplin: "I will be an effective school board member because I am a teacher and have firsthand knowledge of Common Core Standards as well additional education issues that impact our students' today. I am the only candidate who can bring actual classroom teaching experience to the Leon County School Board."
Candidate Diana Orapollo: "I am a proud product of the Leon County Public School System (LCPS) K-12, an active volunteer in LCPS for more than 10 years, the parent of two children in the public school system and I believe in the importance of a strong public education system. I firmly believe that public education is a community issue and the strength of our public school system directly correlates to the economic vitality and quality of life of our community – these are our future leaders, employees, business owners and citizens. We owe it to every student to ensure that they are afforded the best possible opportunities for academic success."
Candidate Forrest Van Camp: "I have forty-five years' experience in public education. The last thirty-six have been with the Leon County School System working on the Administrative Team for Superintendent Pons and the six past superintendents. I have represented District 1 on the Leon County School Board for the last six years. My knowledge of Leon County School's history and my concern for its future drives me to serve again. Putting kids first, compassion for family and Christian values, believing that parents should be involved in their child's education and support and respect for our teachers is what I am all about. I feel I have earned the respect of my community by being prepared, not afraid to speak my mind and always voting my conscience when it comes to difficult matters."
What made you decide to run?

Candidate Alva Striplin: "I was born and raised in Tallahassee and am a product of Leon County public schools having attended Kate Sullivan, Raa Middle School and Lincoln High School. After acquiring a Business degree from Florida State University, I found a passion for education while volunteering in the classroom when my children were in elementary school. From my teaching experience and my perspective as a parent of three children in Leon County schools, I felt the need to join the discussion on decisions that affect our students by serving on the Leon County School Board."
Candidate Diana Orapollo: "No other candidate in this race has more hands-on volunteer experience with LCPS than me, having served as a classroom volunteer, mentor, PTA/PTO, School Advisory Council, District Advisory Council and I am currently serving my fourth year on the Foundation for Leon County Schools Board. I am tenacious, yet I know how to work effectively with others to build consensus and move forward to achieve positive outcomes. I fully comprehend the significance of a position whereby 5 individuals make the education decisions that impact more than 33,000 students and oversee a budget of more than $300 million. I take the responsibility of serving as a school board member seriously, and as a school board member I will always do my homework, ask pertinent questions, and ensure that every tax dollar is being spent wisely."
Candidate Forrest Van Camp: "I was elected in 2008 for a two-year term and was re-elected in 2010 for a four-year term. I had planned not to run in 2014 because I needed colon surgery and recovery requirements between January 2014 and September 2014. However with God's help and a great medical team I had surgery this past August and recovery is now 90% complete. I love this job and have decided to seek re-election. I also really appreciate the many requests I received from parents and supporters to continue serving as School Board Member for District 1."
Describe your position on Common Core?

Candidate Alva Striplin: "I believe in challenging our students academically with the implementation of rigorous standards that will help our students be fully prepared for college and/or the workforce. While I recognize the benefit of common benchmarks per grade level and subject area throughout the country, Florida should NOT commit to another costly wave of reform and testing. Classroom time should be spent teaching and learning."
Candidate Diana Orapollo: "The relevant question to ask is: are the current standards rigorous and do they prepare our students for college and career after high school? Florida's current standards are deeper and more rigorous than the previous Florida Sunshine State Standards (which actually served as the basis for the Common Core standards), and they help students develop higher order thinking skills as opposed to rote memorization. Common Core is simply that, common STANDARDS (educational benchmarks) that establish the "WHAT" that students need to achieve to ultimately be college or career ready. "How" the standards are implemented (i.e. curriculum), is solely left to the individual states. Regardless of state or federal legislation, it has been and will be local school boards in collaboration with local educators that develop the instructional units and curriculum. Implementation of any standards aligned curriculum is still a local responsibility and right."
Candidate Forrest Van Camp: "We all want the best educational system possible to meet individual student needs. This must be determined at the local level with parent involvement. Common Core initiatives may or may not satisfy this need. Implementation of Common Core involves testing, training and evaluation and purchasing text books and equipment. The State of Florida is still trying to frame Common Core and confusion is rampant. I believe in local control of public education. If Leon County Schools is mandated by the Federal government and the State of Florida to implement Common Core telling us what, when, where, how and that local parents must pay through increased property taxes, then I cannot support the Common Core initiatives."
Tallahassee Reports will continue to bring you more information on each candidate as the election for Leon County School Board District 1 draws nearer. The Common Core Standard will bring with it lots of discussion as Election Day nears on August, 26, 2014. Are their questions you would like to see asked of the School Board District 1 candidates in the upcoming issues? Email them to Blythe at blythe@tallahasseereports.com.