Tallahassee Reports has obtained documents that show Mayor Andrew Gillum is being paid by a group that is advocating for cities accross the United States to adopt "Ban the Box" policies.
A debate began two weeks ago about Mayor Gillum's controversial proposal to remove the criminal background questionnare from the City of Tallahassee's employment application. The issue was first brought up at the January 14th City Commission meeting. The issue was postponed after a number of questions were raised by City Commissioner Scott Maddox and concerns were voiced by Commissioner's Nancy Miller and Gil Ziffer.
Gillum's proposal is that the City of Tallahassee remove the criminal background questionaire from the application and that staff be directed not to ask about an applicants background until after an offer of employment has been decided.
Now the issue is back on the City Commission's agenda for the meeting on January 28th, 2015. In addition, Mayor Gillum has written a "my view" about the issue in the Tallahassee Democrat.
At no time during this debate has Mayor Gillum disclosed that he is being paid by a political group that advocates for the adoption of "Ban the Box."
The image below is from the 2013 IRS filing by the People for the American Way Foundation that shows Mayor Gillum's base compensation as $136,007 for being the Executive Director of the Young Elected Officials Network. See this link for details on Gillum's responsibilities: Gillum Bio
Click here for detailed page: Gillum_Salary
The Young Elected Offcials Nework advocates for specific public policies. Listed below is a page out of the recently released "Policy Book" of the Young Elected Officals Network. The page lists eight issues that the group encourages cities accross the US to support. Listed as number 5 under "Local Level Ordinance" is "Ban the Box."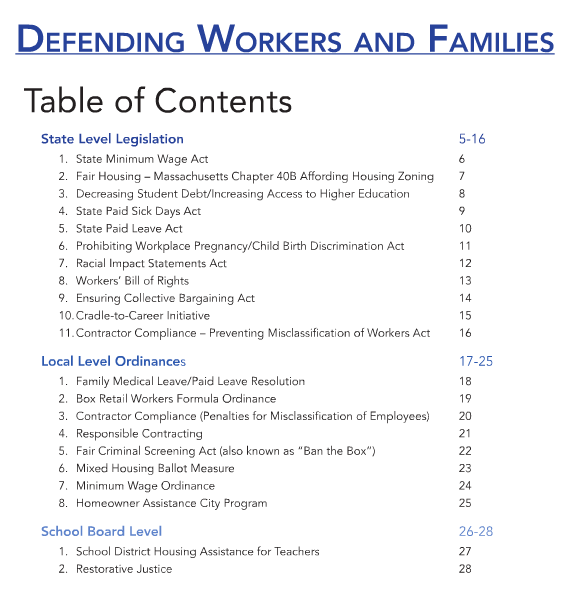 It appears that Mayor Gillum is being paid to advocate for specific issues which includes "Ban the Box". In fact, the Young Elected Officials Network has an annual "Convening" where policy ideas are promoted. One attendee stated,  "The day after I came home (from the YEO National Convening), I gave my staff 15 new ideas to look into! I've never come back from a conference with so many ideas."
Sources say that Mayor Gillum's support of the "Ban the Box" issue raises the question of a conflict, that at a minimum, should be disclosed and discussed.
Complicating the matter is the fact that there is no evidence, such as audits or formal complaints, that indicate the current policy on how to use the criminal background questionaire with the City Commission has generated any problems.
TR will continue to investigate this issue.