Tallahassee Reports has learned that City of Tallahassee Mayor Andrew Gillum made an official visit to Pittsburgh, Pennsylvania on January 30th, 2015 to meet with Pittsburgh Mayor William Peduto.
The meeting lasted for 30 minutes.
Mayor Peduto's schedule for January 30 is shown below. Click on image to enlarge.
Tallahassee Reports spoke with Mayor Peduto's communications manager, Timothy McNulty, who confirmed the 30 minute meeting which he characterized as a "meet and greet."
When asked if the meeting was scheduled for a specific reason or issue, Mr. McNulty said "not that I am aware of."
Tallahassee Reports reviewed the City Commission meetings following the trip to Pittsburgh on January 30, 2015 and found no mention of the meeting by Mayor Andrew Gillum.
Also, Tallahassee Reports could find no mention of the meeting in local media, on any of the City of Tallahassee's social media platform's or on any social media platforms used by Mayor Gillum.
Gillum, who has previously traveled to Washington D.C and Charleston S.C., has mentioned the purpose of those meetings in the local media and during City Commission meetings.
An aide in Mayor Gillum's office confirmed the meeting in Pittsburgh and said that the Mayor's Chief of Staff, Dustin Daniels, was also on the trip.
Mr. Daniels declined to talk with Tallahassee Reports about the trip, but through an aide, said the meeting covered children's issues.
Did the citizens of Tallahassee pay for Mayor Andrew Gillum and his Chief of Staff to fly to Pittsburgh, Pennsylvania for a 30 minute meeting with the Mayor of Pittsburgh?
The Mayor's office did say the trip was official business. Tallahassee Reports has requested all travel expenses for the Mayor and City Commissioners since November 1, 2014 will report the information when the public reords request is completed.
Also, Tallahassee Reports, late today, has confirmed through various social media platforms that three other people joined the Mayor and his Chief of Staff in Pittsburgh for what appears to have been a one or two night visit.
Shown below is a photo from the Instagram account of Adam Corey, former treasurer of Gillum's Mayoral campaign and current developer and partner with the City on the Edison project in Cascades Park.
Click on image to enlarge.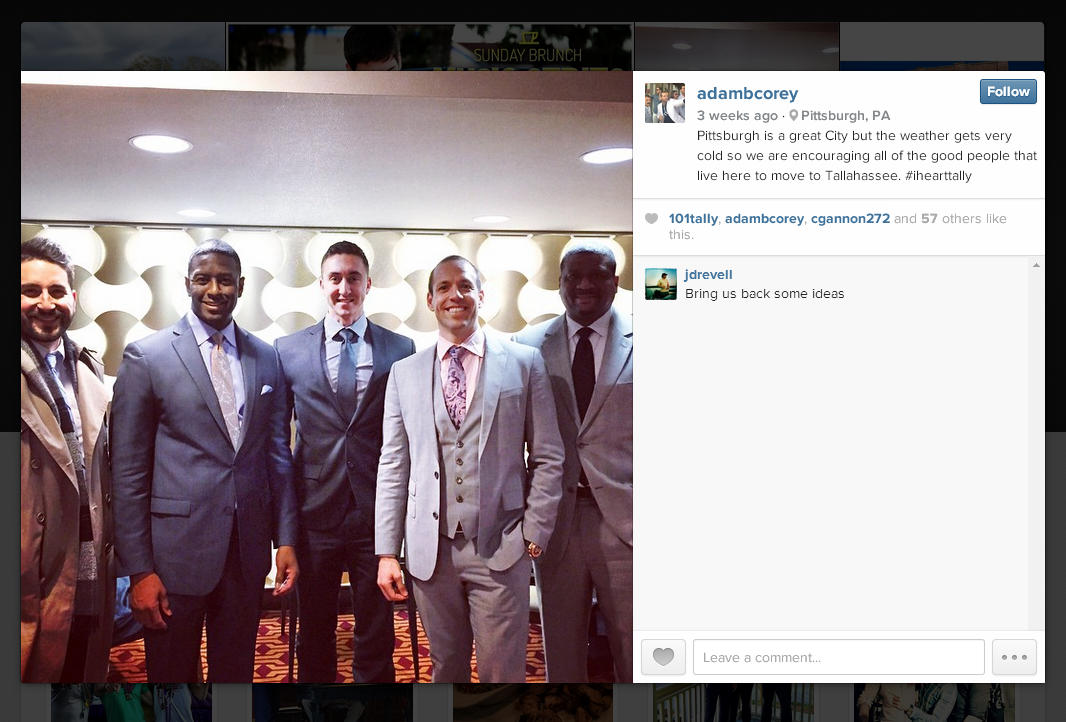 The pictures caption reads in part "Pittsburgh is a great City but the weather gets very cold…"
From left to right is Dustin Daniels-Gillum's Chief of Staff, Mayor Gillum, an unidentified traveler, Adam Corey, and Sean Pittman.
Mr. Pittman is the City lobbyist and played a major role in Gillum's Mayoral campaign.
What were these people doing in Pittsburgh with Mayor Gillum? Was it official City business? Who paid for the trip?
These are all questions that Tallahassee Reports will seek answers to in the coming days.